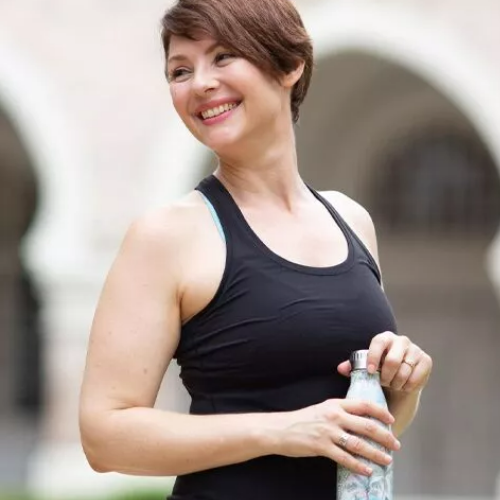 You may have heard the term mind-body connection – but what does that really mean? It means that our thoughts, feelings, beliefs, and attitudes can positively – or negatively – affect our biological functioning. In other words, our minds can affect how healthy our bodies are! And on the flip side, what we eat and how and how much we move can impact our mental state – either positively or negatively, and this results in a complex interrelationship between our minds and bodies.
But in today's frantic fast-paced world, many of us have lost this fundamental connection with our selves. We're simply too busy, too stressed out, too dissociated, to be able to "hear" our bodies signals. My guest today wants to change that, and the tool she uses is a modality called Pilates. You're probably familiar with the term, but how much do you really know about the benefits of a Pilates practice?
My guest today is Emma Jory. Emma is a certified Pilates Instructor, Yoga instructor, and Health Coach, and her passion is helping people reduce pain, improve flexibility, increase core strength and posture, and most of all to help them learn to love their body. Join us this week as Emma shares how – and why – to incorporate Pilates into our life to reconnect with our bodies and live our healthiest lives.
Connect with Emma:
Website – https://epilatesonline.com/
Free 6-Day Body Toning Series – https://epilatesonline.com/free-6-day-body-toning-series/
Instagram – @epilatesonline
Facebook – https://www.facebook.com/epilatesonline
Facebook Core Fit Club group – https://www.facebook.com/groups/epilatescorefitclub/
YouTube – https://www.youtube.com/channel/UCcd28tIPhS8-oehfp-ym-yw
Sponsor Info
Website – https://www.energybits.com/
Vitality Bits – https://www.energybits.com/vitalitybits.htm
*Make sure you use coupon code "silveredge" at checkout for 20% off your order.
Join the Over 50 Lean Body Blueprint group on Facebook – https://www.facebook.com/groups/3172506236368032