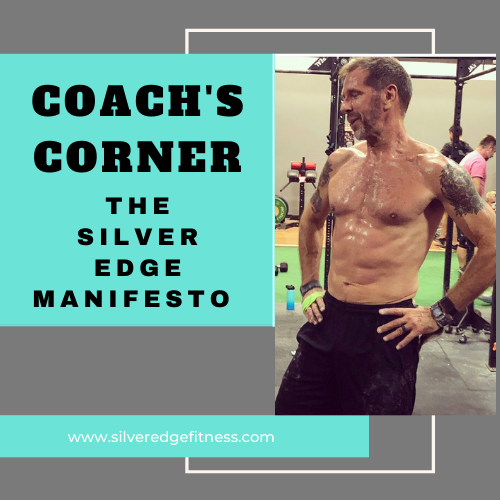 Today we have another edition of the Coaches Corner – so no guest today – it's just me, and we'll be back next week with our regular interview format.
I thought it would be fun to talk about some of our core tenants and beliefs over here at the Silver Edge. So, I compiled a list of 15 ideas that make up our core philosophy. And here is the list in no particular order.
We can be in the best shape of our lives after age 50
Metabolic health trumps weight loss
There are no shortcuts to a strong, lean, healthy body
We need to focus on building functional strength
Cardio sucks for weight loss
The food/pharma machine does not have our best interests at heart.
We are our own best health care advocates
We can be overweight AND undereating
The common advice of "eat less move more" is poor advice for most of us
Diets don't work
The more restrictive the diet (keto, vegetarian, vegan, etc.) the more difficult to maintain optimal health
There is nothing magical in intermittent fasting
We should eat primarily whole foods
We should eat more quality protein
The common narrative of aging sucks!
I realize that some of these might be controversial or maybe even triggering for some folks, but join me today as I walk through each of these core tenants.
The links to all the resources we discussed in this episode are below:
Shelly Stettner Interview – https://silveredgefitness.com/episode74/
Free Metabolic Assessment – https://silveredge.ac-page.com/metabolic-assessment
Coach's Corner – Lose 20 Pounds In 2 Months – https://silveredgefitness.com/episode139/
Fix My Diet Assessment – https://silveredge.ac-page.com/fix-my-diet
Over 50 Guide to Healthy Protein – https://silveredgefitness.com/free/
Want more over 50 Health & Wellness Goodness? Check out our private Facebook group:
Over 50 Lean Body Blueprint Facebook Group – https://www.facebook.com/groups/silveredgefitness